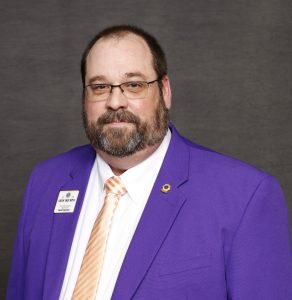 District Governor Carlton "Carlie" Metts, II
New Bern Twin Rivers Lions Club
Lion Carlie is no stranger to Lionism as he follows a family tradition.  Lion Carlie's Dad, PDG Carlton and Mother, Lion Anne Metts are both Lions.  
Lion Carlie grew up in Manteo and New Bern, NC where he was introduced to being a Lion by his father at an early age and later joined the New Bern Twin Rivers Lions when his Dad was Vice District Governor.  Both Lion Carlie and his partner in service, Lion Dawn are members of the New Bern Twin Rivers Lions Club along with their oldest daughter making it three generations as Lions.
Lion Carlie took his first district position when PDG Billy Gene Herring asked him to be Information and Technology Chair for the District.  He has also served as a Region, Zone and Brighter Visions Chair and State Information Technology Chair.  
Lion Carlie holds a Bachelor of Arts in Parks and Recreation Management from the University of North Carolina at Wilmington.
Lion Carlie looks forward to being a positive influence to the upcoming leaders of the Leos and Lions in District 31N along with working with some of his mentors.