Leo Clubs provide the youth of the world with an opportunity for development and contribution, individually and collectively, as responsible members of the local, national and international community. Community service remains the cornerstone of the program. Like their Lion counterparts, Leo club members enjoy serving their neighbors and watching positive results unfold.
Membership
Serving others, making new friends, and viewing the world through another's perspective are some of the rewards that come for young people who join a Leo Club. Look at the Leo Clubs Directory to see if your school already has a program. If not, contact the school's principal about forming a club. You will need an advisor to form a club. A Leo Club must be sponsored by a local Lions Club. There are more than 45,000 Lions Clubs in the world, including more than 400 in North Carolina, that are willing to sponsor at local Leo Club. For information about forming a Leo Club you can visit the Lions Club International Web site at www.lionsclubs.org or contact North Carolina State Leo Clubs Chairperson.
Leo Service Project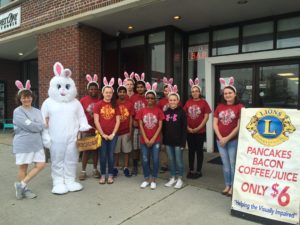 Leos take time to sort used eyeglasses that were donated by Lions to the North Carolina Lions Foundation. Thousands of eyeglasses are donated each year. The NCLF will send the eyeglasses to a recycling center where they will be sorted by prescription and donated to eye clinics around the world to help people who cannot afford new eyeglasses. If you want to help, donate old eyeglasses to a local Leo Club or Lions Club in your community.
Leo Clubs in District 31N
East Carteret High School Leo Club, sponsored by the Beaufort Lions Club
Greene Central Leo Club, sponsored by the Snow Hill Lions Club
and the Young People Rock Leo Club, sponsored by the Jones County Lions  Club  (The Young People Rock club is a middle school/ high school club.)